HI-AM 2023
June 27 - 28
Halifax, NS

HI-AM 2023 Exhibitors and Partners
Platinum Sponsors
Gold Sponsors
Silver Sponsors
Our Sponsors
Why Exhibit at HI-AM 2023?
Be a part of HI-AM 2023 by supporting this exciting event. The HI-AM Conference will bring together principal researchers and key decision-makers of the metal additive manufacturing field from across Canada - and the world.
Sponsors will have the opportunity to:
Build relationships with AM decision-makers from industry and academia.
Promote their products/services to our wide network of industrial partners.
Expand their brand outreach through support of academic and educational events.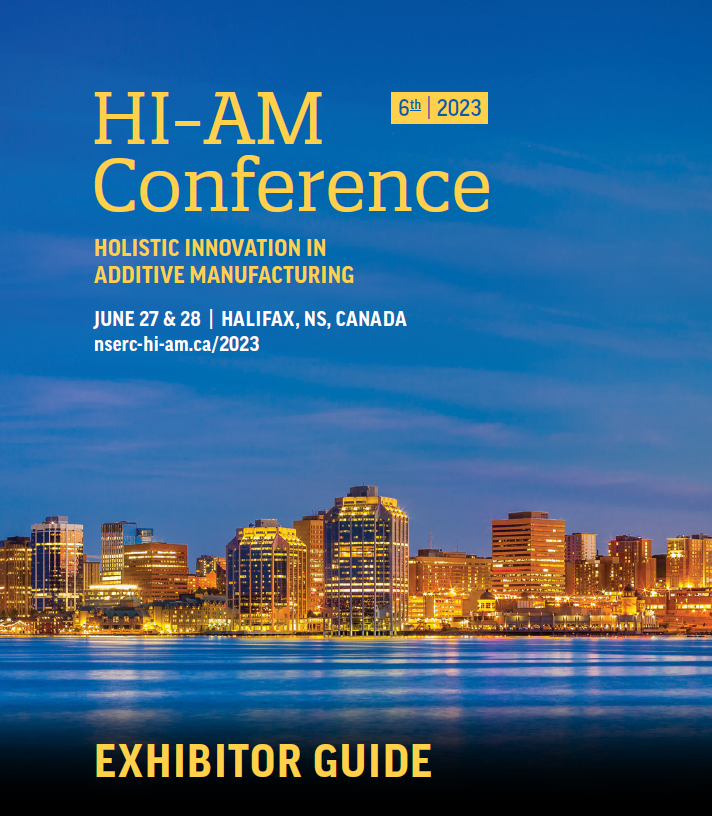 Exhibition Package
Benefits
NOTE: All fees are in Canadian Dollars.
Price: $700
Logo Recognition
Conference website | Program booklet | Break slides and signage
Exhibition Space
8'x8' booth | Identification sing | One 6' draped table | One round table | Three side chairs | One waste basket | One 110 v outlet | One power bar
Complimentary Full Registrations Including Tickets to Conference Dinner
One pass (additional exhibitor passes are available at a discounted rate)
Cancelation Policy: There are no refunds or credits for exhibition cancellations once payment has been received. The NSERC HI-AM Network may decide to postpone or cancel HI-AM 2023, in its sole discretion. If NSERC HI-AM Network cancels or postpones the said event, a full refund will be issued. Please note that this refund policy is not applicable to the services and goods ordered through Darwin Event Group.
Please contact us with any questions about sponsorship and exhibition: fliravi@uwaterloo.ca
Order Additional Items and Services
| | | | |
| --- | --- | --- | --- |
| Service(s) | Provider | Order details | Notes |
| Additional and Specialty Furniture, Flooring, Modular Booths, Material Handling, Pre and Post Show Storage | Darwin Event Group | Contact the service provider for more information: info@darwineventgroup.ca | Tel: 877.697.7177 | Place your order by Tuesday, May 31, 2023 to receive discounted pricing. |
| Exhibit Booth Electrical Needs | Dalhousie Student Union | A 110 V (15 amp) outlet is included in your booth. If you have specific electrical needs, please provide a detailed description of your requirements during registration or contact us at fliravi@uwaterloo.ca by May 31, 2023. | Requests should be reviewed and approved by Dalhousie Student Union and an additional charge might be required for the service. |
| Lead Retrieval App | Webex Events (Socio) | Add a license to your exhibition package during registration. | License fee: 255 USD + tax per exhibitor |
Our Previous Sponsors & Exhibitors